Part One of a two-part interview with Yossi Ron, VP of Energy and Strategic Projects at ICL.
The Transition to Sustainable Energy
Future historians may look back on the 2020s as one of the most important decades in human development. For centuries, the human race has burned fossil fuels for energy production to the direct detriment of the environment. From the onset of the Industrial Revolution, with its factories and furnaces, huge global population growth, and the subsequent development of motor vehicles, we burned fossil fuels on a massive (and with hindsight) reckless scale.
Industrial and domestic use of coal and other high-carbon fuels released trillions of tons of greenhouse gasses (GHGs) into the atmosphere. The long-term damage to the environment was – and continues to be – immense. Planet-wide global warming is changing the environment and contributing to extreme weather phenomena.
We're now on the threshold of a fundamental transition away from finite and heavily polluting fossil fuels to sustainable clean energy. New technologies are making renewable energy in industry increasingly affordable and scalable. The development of new energy storage solutions and microgrids will further enable a global switch to sustainable energy.
Protecting the environment, reducing GHG emissions, and not perpetuating unsustainable dependence on finite natural resources, is a collective human responsibility. There is too much at stake to simply rely on governments for leadership. Every company, organization, and individual can play a valuable role in promoting and enabling a permanent transition to sustainable energy (and greater energy efficiency).
Any form of change can be challenging and not everybody is at ease with the pace of renewable energy trends. There are still concerns about how to achieve energy security and energy independence at national and even industrial levels, and how to implement strategic sustainable energy policies without a negative economic impact in the short to medium term.
The demonstrable viability of renewable energy in manufacturing plants will help to build wider confidence in clean energy as the future of both industrial and domestic power. ICL is taking a lead in the transition to clean renewable energy on an industrial scale with one of the world's boldest and most ambitious energy conversion projects.
The revolutionary Green Sdom Initiative in Israel's harsh desert region is emerging as a fascinating case study of how green energy in factories could be the future of clean industry. ICL's VP of Energy and Strategic Projects, Yossi Ron explains the initiative and his personal vision for a greener future.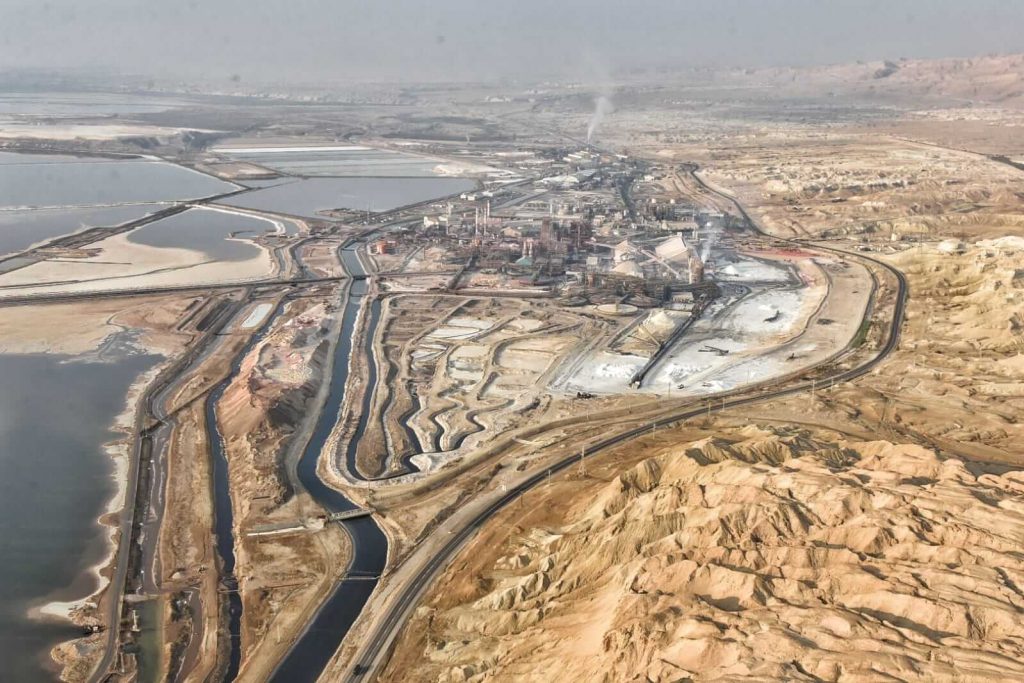 Renewable Energy in Manufacturing: An Interview with Yossi Ron
It's a pleasure to introduce Mr. Yossi Ron, VP of Energy and Strategic Projects at ICL. Hello Yossi, and thank you for joining us today! Perhaps you'd begin by telling us a bit about yourself, and your role at ICL?
Albert Einstein said, "Everything is Energy". I have quite a wide-ranging role that allows me to innovate, promote and develop ICL's transition to renewable energy, and the company's commitment to carbon net zero by 2050 and SBTi 2030. At the end of the day, meeting the NetZero challenge is a significant, joint corporate-level effort as it involves almost every single aspect of our global activities and functions.
Overall, the Energy team activity involves handling, promoting, and developing sustainable sources of energy, and managing our transition to sustainable energy. We are also responsible for the execution of various strategic projects relating to energy like the ACE (Ambition Creates Excellence) program- a unique energy efficiency and decarbonization program performed across our global operations. We have put together a joint team with other units to promote sustainable initiatives, from Renewable Electricity purchase contracts to Waste to Energy ideas and more.
That sounds like a very challenging role! What can you tell us about the Sdom project?
The Sdom industrial complex is located in Israel near the Dead Sea and it's ICL's largest industrial complex. It has about 12 different plants on site and the largest electrical grid outside Israel Electric. It's a huge consumer of energy – roughly 150 megawatts of electricity and 150 megawatts of thermal energy every hour. The Sdom site houses the ICL power plant that we built and started operating in 2018. It's Israel's largest independent industrial, co-generation power-generating facility.
It is also the most efficient power plant in the country with an energy efficiency of over 80 %. We supply all the steam and electricity for the Sdom site, plus the electricity for most of the ICL plants in Israel. While it is by far the lowest footprint fossil electricity in the country, it still emits roughly 1 million tons of carbon dioxide annually.
The Green Sdom Project is aimed at converting the entire site to renewable energy, thus, eliminating 1 million tons of carbon emissions annually. That's a very, very ambitious goal and a huge challenge – but we rise to the challenge!
It's clearly a massive project. It must be one of the world's biggest green energy efforts. Can renewable energy be used in factories on this scale?
We certainly think it can. Ultimately, using green energy in factories is very similar to using traditional energy sources in factories. The challenge is securing reliable sources of sustainable energy, the ability to store energy, and adjusting the infrastructure. Above all, it's the transition to renewable energy in industry that presents most of the challenges.
There are a few larger green efforts in terms of capacity, but this is one of the first and most complex efforts. It's not just another large solar field to generate green electricity; There are lots of those.
We are not only planning to convert an entire working site – one that runs 24/7/365 – to green energy without stopping it. That's an incredibly complex and sophisticated operation. We also keep in mind that we are a business and the transition must maintain, and even improve, our competitive edge. As far as I know, a conversion of this scale, an economically viable "Sustainable Package" of this magnitude is a unique, groundbreaking venture!
Wow! Very few companies would have either the vision or the courage to attempt an operation of that scale and complexity. How did the Green Sdom Initiative come about?
The idea of producing solar energy in the Dead Sea Valley is not a new one. But it was only about two years ago that Noam Goldstein, Executive Vice President, Operational Excellence, Innovation & Energy and I really started charting a possible roadmap towards the decarbonization of Sdom and discovered the full future potential of such a project.
Developing a shared vision into an initial concept, and brainstorming internally and with external experts produced a concept that was embraced by the ICL management and kicked off by Raviv Zoller, our CEO. It quickly became a mission – even before we completed a feasibility study. As you said, a massive and complex undertaking that no one attempted before. There are no blueprints to follow or similar attempts to learn from.
The bottom line is that we all understand that we need to do something about the Sdom site's carbon footprint, so we see it as a rare opportunity rather than a problem. We defined it as "the moment the stars aligned". Everything seems to be in place – the site location and its characteristics, the broad direction that official regulation is moving in, the realization that companies have to curb their carbon footprint, the Sdom site's ability to consume thermal energy and electrical energy…Everything combined to make us believe that a "Renewable Hub" is achievable. The idea is to create a self-sustaining microgrid of assorted energy solutions from solar PV, battery storage, and thermal storage to hydrogen, etc.
One thing I would like to emphasize is that it's very easy to get caught up in the natural enthusiasm for protecting the environment and achieving renewable energy in industry – and to forget the wider context. We're operating a business and need to be profitable – the business itself has to be sustainable i.e. competitive. Yes, we absolutely need clean and sustainable energy, but we live in the real world. It has to be cost-effective. We can't simply impose massive increases in energy costs or the whole exercise becomes self-defeating.
The key to renewable energy in manufacturing plants is practicality and innovation. We quickly saw that we needed a package of flexible solutions: A working combination of solar PV, hydrogen, thermal storage, battery storage, and smart energy systems. It became obvious that the key to viable sustainability is a solid "sustainability package" incorporating tactical as well as strategic advantages into the calculations. We went to McKinsey and asked them to validate the concept.
Mckinsey studied the concept and said we needed to delve deeper into the numbers, the project was ambitious but actionable, it could be done. Since then we've been promoting the project at many conventions and conferences. We were among the first to relate to the "hydrogen economy" when talking of hydrogen.
Today, people consult with us to learn about "feasible hydrogen utilization". We are in touch with many of the Israeli and international startups that offer relevant renewable energy technologies and solutions. We are also cooperating with local universities engaged in relevant research.
There's an entire array of global ICL operations that will also require energy conversion. Everything we learn at Sdom is potentially applicable across the board. A good example is the electrification of natural gas-fired equipment planned at the Sdom plant. We can learn the lessons at Sdom, and then optimize the conversion process across all the relevant ICL sites. This effort clearly demonstrates ICL's commitment to SBTI and 50 % net carbon reduction by 2030.
What is SBTI?
SBTI is the Science Based Targets Initiative. It's a global initiative that was joined by many, leading industrial corporations and other companies that consider the existing green targets to be inadequate. All the companies that joined the SBTI took on the responsibility of meeting more challenging environmental targets.
The main target of SBTI signatories is to reduce 50 % of their carbon footprint by 2030. Most of the world committed to just 30 % by 2030 (which was originally ICL's official goal). We increased that to 50 % by 2030 which is a significant undertaking. It's now May 2023, which gives us less than 7 years to get there. It's absolutely a huge undertaking, but we're embracing the challenge and promoting effective solutions.
More on the subject:
Sustainability – Not Just Another Catchphrase!
Top Energy Trends to Watch Closely in 2023
Microgrids as a Solution for Industrial Sites
Achieving the 50% SBTI target sounds like a real challenge. What are the actual plans for the Sdom plant?
We are now adjusting the original Green Sdom plans to accommodate the SBTi challenges.. I'll get into it in more detail in the second part of the interview. Suffice it to say for now that hydrogen, while farther down the process, is really exciting. It's very much an emerging concept that is becoming, or will become a major factor, and the possibilities – if we can produce clean hydrogen at competitive costs – are amazing.