Grow, Accelerate and Impact the Future
As global leaders in the field of agriculture, food, and engineered materials, we continually seek to develop solutions with our unparalleled R&D infrastructure that make an impact and improve the quality of life for millions worldwide.
Our innovation efforts are driven by a sense of the world trends and a relentless quest for solutions to humanity's sustainability challenges. We created the Planet Startup Hub, our innovation Food Tech and Agtech accelerator, to connect ICL's knowledge, experience, strengths, and resources with external innovation in order to bring innovative ideas to market. ICL's Planet Startup Hub seeks game-changing technology companies that address critical global needs and intend to bring positive environmental impact.
Our Food Tech and Agtech accelerator focuses on ICL's core competencies that show measurable positive environmental impact.
Next-generation fertilization

Organic fertilizers

Nutrient use efficiency

Biostimulants and micronutrients

Nitrogen fixation
Alternative proteins

Natural ingredients

Plant-based functional ingredients

White biotechnology
Startups will get access to ICL's resources:
Robert Stenekes
Success Manager of ICL's Planet Start-Up Hub & ICL Director External Innovation
Robert has 20 years proven track record of successful sales & marketing, business development and innovation leadership in a wide range of industrial markets, including coatings, automotive, construction, energy, agriculture, food and beverage, and pharmaceutical at ICL Group and other leading European companies. He holds a MSc in Polymer Chemistry from the University of Groningen and a PhD in bio pharmacy from Utrecht University, The Netherlands.
Keren Avriel-Sadan
Operation & Marcom Lead of ICL's Planet Start-Up Hub
With two decades of business management experience, Keren has served in management positions in many leading companies, including Cham Food and Synel Industries. Her expertise in project management, market analysis and fundraising help innovations get from ideation to commercialization quickly and effectively. Keren holds an MBA in Finance Engineering from Hebrew University and a CPA license.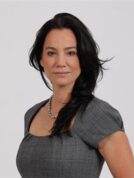 Hadar Sutovsky
General Manager of ICL's Planet Start-Up Hub & VP ICL External Innovation Lead
Hadar brings extensive experience in innovation, incubation, investments and global business development in sectors of foodtech, sustainable agriculture, IMPACT, and consumer health. Before joining ICL Hadar was EVP Investments & Innovation at Cannbit, she was Managing Partner in Aquagro Fund, and formerly led Innovation both for the Global Unilever Open Innovation Hub and Frutarom. Hadar holds both an MBA in Business and MSc in Molecular Microbiology & Biotechnology from Tel Aviv University.