Exploring groundbreaking social initiatives and social entrepreneurship projects that are transforming the quality of life in communities where ICL operates.
While ICL is widely recognized for its expertise in minerals and pioneering innovation in agtech, food tech, battery materials, and renewable energy, the company's commitment extends beyond these domains. ICL is at the forefront of strategic community initiatives that significantly improve the lives of people in areas that have not benefited extensively from government funding and social investing.
ICL's dedication to community social innovation has resulted in tangible and quantifiable positive impacts in local communities. One particular endeavor, the Thinking Doing project, stands as a flagship initiative that not only brings about positive change but also offers personal and professional rewards for ICL employees who generously volunteer their time, skills, energy, and talents to assist others.
In this blog post, we will highlight the Thinking Doing project and showcase how its successful operating models are driving transformative outcomes in underprivileged areas of Israel's Negev region and other locations. Moreover, we will delve into ICL's broader commitment to corporate social responsibility, revealing the company's ongoing investments in the community and contributions to social entrepreneurship.
What is ICL's Thinking Doing Project?
ICL was always driven by a sense of doing the right thing and this includes social responsibility. Increasingly, the company realized that simply donating money to worthy causes isn't enough to effect real change at a local level. Community initiatives need human involvement – and a diverse range of talents – to make them work. Enthusiastic and committed people are a huge force multiplier when they are aligned with physical and financial resources.
The Thinking Doing project is succeeding in building thriving networks of community social innovation across the Negev region.
The living networks function like human threads, binding communities together and strengthening them on many levels. The initiatives also connect different communities together, breaking down existing social barriers. Social entrepreneurship gives local people the tools and self-confidence to improve society across the board. Once there are defined goals and a shared purpose, and an external catalyst is provided, powerful collaboration ensues.
The Role of Social Activism in the Thinking Doing Project
The basic goal of Thinking Doing is to empower social entrepreneurs and create momentum for social innovation through community initiatives. It's local people, with local knowledge and a personal stake in the community who are most effective at creating, driving, and maintaining social change.
Thinking Doing is primarily a social activism project that functions as an accelerator program for local social initiatives. The energy and impetus for change and improvement always come from the residents of each community. ICL acts as an escort and mentor, providing professional expertise and assistance through each stage of a micro project, as well as funding and project management as required.
The goal is always to steer projects in the direction of autonomy and to allow them to become self-sustaining and self-financing at the earliest opportunity. ICL never 'owns' the projects that it joins as a partner, it facilitates their development and seeks to transfer knowledge and skills to local activists.
When ICL initially began to think in terms of a strategic and coordinated approach to social responsibility and investing in the community (as opposed to a series of limited ad hoc initiatives) it discovered a simple truth. Most people would like to do good and want to improve their communities. Moreover, they know what they want to change and how to do it. What they lack is a catalyst and a framework. Once these are provided, the results can be both incredible and inspiring. ICL works as an enabler, giving impetus and offering resources and mentoring to aspiring community volunteers and leaders.
ICL encourages its employees to volunteer at a local level, either on the company's time and during their free time. Some of Israel's most talented and highly motivated people partner up with local residents across dozens of communities and offer their professional skills and problem-solving abilities, as well as the resources of a major international company.
The equal partnership between ICL volunteers and the local residents means that local voices are heard and that projects are driven and directed from ground zero, in accordance with local needs. Every community is different and faces its own unique challenges and opportunities. ICL deliberately rejected a traditional leadership approach in favor of a flexible grassroots model based on local knowledge and self-empowerment for communities.
Thinking Doing in Numbers
One of the factors that sets the Thinking Doing project apart from similar corporate social responsibility initiatives is the sheer breadth and scale of the project. To put the ICL initiative into perspective, and to understand its scope, it's worth taking a look at a few key figures. Thinking Doing has been operating since 2014 and is currently running over 400 individual projects. These involve:
9 local authorities
31 towns
1,360 entrepreneurs,
Over 100,000 participants
This is a massive initiative that has taken on an energy of its own and is functioning as a powerful force for change. ICL is supporting local communities in active collaboration with local and regional councils across the Negev region. Close cooperation with local authorities maximizes the positive results of individual social initiatives, bringing together a plethora of wider resources and local knowledge.
Thinking Doing works on multiple levels:
Empowerment of local social entrepreneurs
Improve the quality of life and opportunities for all Negev residents
Strengthen the resilience of communities through proactive citizenship
Invest in the environment, economy, and society via social entrepreneurship.
One of the key strengths of Thinking Doing is that it is not a single monolithic project that depends on future funding for sustainability. Localized networks are bringing people together at the grassroots level and developing an energy and momentum of their own. Successful projects become self-sustaining.
Thinking Doing encourages community dialogue and enables local residents to highlight problems – and opportunities for growth – and to propose new projects and suggest better ways of investing in the community. ICL plays a key role in connecting different parties in the community and providing a framework to create partnerships.
ICL is committed to contributing to community social innovation on an ongoing, multi-generational basis, but even if it is pulled out tomorrow, the meaningful partnerships that are driving the Thinking Doing networks are resilient enough to continue.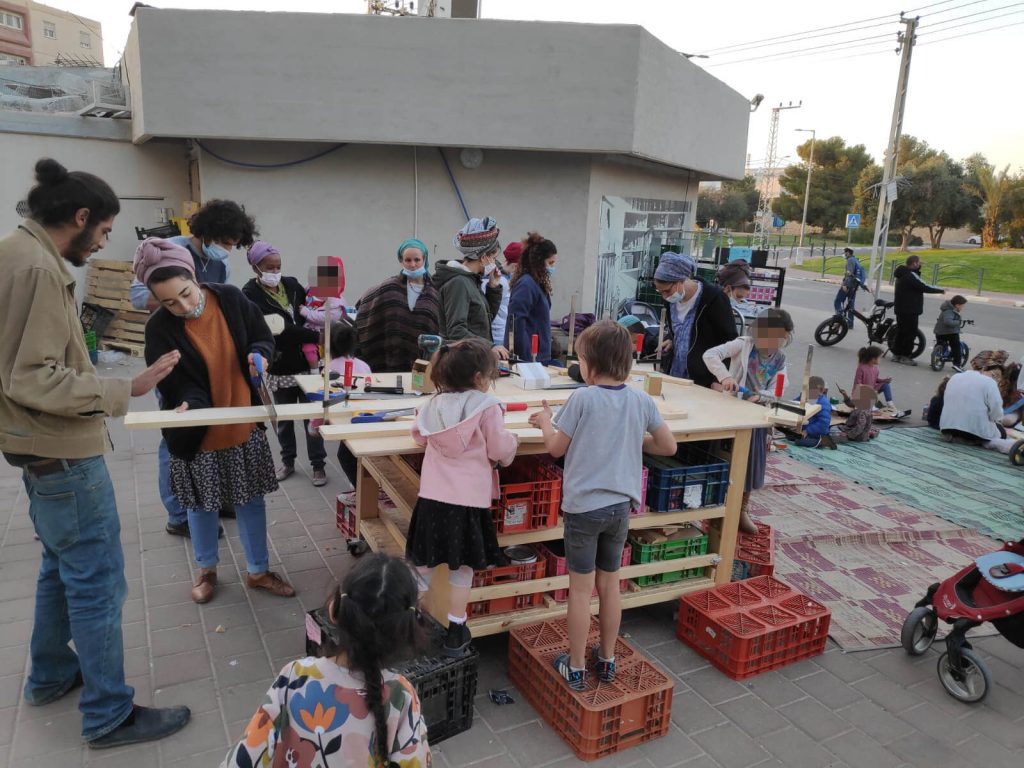 The New Thinking Doing Operating Model
A new and improved Thinking Doing operating model was implemented in 2022 and is achieving quantifiable success at local level. The new operating model gives ICL employees the freedom to lead activities in each local authority area. They can escort and mentor the social entrepreneurs and allocate support from ICL volunteers wherever it is needed, and in the form that will be most effective.
Local Thinking Doing projects are the responsibility of individual ICL factories in Israel, led by designated teams and with the support of the site HR managers.
Factories 'adopt' localities in the Negev and support local entrepreneurs within these areas.
A representative of the ICL site participates in local steering committees, chaired by the head of the local authority.
Volunteers from the ICL factory contribute to the project according to the specific project requirements and to their personal skill sets and abilities. These can include practical contributions in fields as diverse as carpentry, construction, and agriculture, or in administration and logistics, economics, marketing, management, and other 'softer' skills.
This flexible and devolved mission command approach has unleashed a new wave of energy and enthusiasm and is rapidly emerging as a replicable template for future social initiatives.
Building Leadership as a Tool for Investing in the Community
Possibly the single most important aspect of building enduring community initiatives is the development of leadership skills and self-confidence. This applies mainly to local residents who are participating in projects but also benefits ICL employees who can develop their own leadership skills through mentoring, coordinating, engaging with local authorities, and problem-solving.
Part of the key to developing leadership within the context of community social innovation is to know when to take a step back and allow local partners to take the initiative. When ICL employees volunteer on projects, they are constantly struck by the ability and talent of their local partners.
When communities are functioning below their actual potential, what's often missing is an understanding of how systems work and an awareness of what can actually be achieved, as well as specific skill sets or a structure for cooperation and collaboration.
Once those knowledge gaps are filled, and a project gains momentum, there is a highly rewarding two-way learning process. ICL employees often find that when it comes to practical problem-solving and the art of getting things done, they are learning as much as they are teaching – if not more.
How to Launch Effective Community Initiatives
Something that ICL learned early on is that when your goal is to develop social entrepreneurship, an early investment in effective planning reaps future dividends. If you create a clear framework and get the basics right, there will be a strong foundation for initiative and growth. The Thinking Doing project has evolved a 10 point pathway for creating communities of experts who have the tools, resources, and synergistic collaboration to enact positive and sustainable change.
Engage with local authorities and communities to promote the specific social-environmental-economic field.
Identify current needs with stakeholders, both in local communities and the appropriate local or regional authorities.
Bring together volunteers from ICL and the stakeholders to build a viable team in the community.
Establish a local planning committee in collaboration with ICL, and clearly define its goals and responsibilities.
Write a clear call to action for the community to kickstart the actual projects.
Give ICL's volunteers a mandate to lead and utilize their professional skills and knowledge.
Build a professional human infrastructure to implement the project's goals.
Establish a central network for oversight, sustainability, and continuity across community initiatives.
Establishing a mentorship group that works synergistically and gives program participants both the skills and practical assistance to initiate new community social innovation.
Establish a network of entrepreneurs connecting the communities.
Thinking Doing: Objectives and Metrics
The Thinking Doing project is a strategic long-term initiative. It's important that ICL can continually assess the performance of all the micro-projects and quantify their tangible benefits to the community. The goal is to learn from mistakes and build on successes as they occur, and to optimize the return on both financial and human investment.
To this end, the project places a major emphasis on objectives and metrics, as well as accountability and transparency.
The Thinking Doing teams set up local annual goals and KPIs for each micro-project, as well as for the program itself. This includes a number of participants, volunteers, and entrepreneurs. The wider review process evaluates each project's progress towards becoming self-sustaining. It also carries out surveys to evaluate stakeholder satisfaction, attempting to assess the opinions of both community residents and local authorities and to identify areas for improvement.
Thinking Doing: Uniting Communities with Social Activism
Since its inception in 2014, Thinking Doing has made a positive impact on dozens of communities and hundreds of thousands of lives. A whole range of micro projects has strengthened communities and improved the quality of life in communities across the Negev.
This cross-section of successful micro-projects gives a brief insight into how Thinking Doing is delivering tangible benefits. The concept of a dynamic partnership between local community activists and ICL volunteers is delivering powerful results!
Beka-Kafe is a mobile coffee shop in Be'er Sheva. It was developed and is operated, by a team of high school students. The coffee shop not only serves good coffee but also brings together members of the community who might not otherwise meet. In particular, Beka-kafe seeks to bridge the generation gap between local youth and their elderly counterparts.
Tea Pot is a similar initiative in the Ramat Negev area. The mobile canteen travels between local settlements, bringing local residents and communities together in a comfortable and sociable setting. The goal is to build links between people and tackle problems of social isolation.
Movies on Buildings is another innovative Thinking Doing project in the Negev city of Be'er Sheva. A team of volunteers projects movies onto the walls of buildings, bringing cinema directly to local neighborhoods. The climate in Be'er Sheva is ideal for outdoor viewing and residents have an opportunity to meet and socialize after each film.
World Repair is a project in Yeruham that teaches people how to recycle everyday junk and fashion it into beautiful and useful objects. The World Repair workshop brings together high school students and local residents who share a passion for creative design and recycling. The project includes a small carpentry workshop and encourages dialogue on how to use public spaces.
The Community Gardens projects are transforming the arid desert landscape, in many towns and settlements. Volunteers identify neglected public spaces and plant herbs, vegetable plots, fruit trees, and other greenery for the benefit of the entire community. Their efforts are enriching and beautifying the local environment and creating new micro-environments to support the local ecosystems and promote biodiversity.
These gardens also create pleasant locations for community members to come together and meet. Moreover, they provide attractive settings where local residents can host many social and cultural events, such as reading sessions for children, musical events, community bonfires, and more.
These are just a few of the diverse projects undertaken by Thinking Doing, which include local radio stations, food and cooking initiatives, workshops that bring Jews and Bedouins together, language classes, and a popular outdoor free school. 
More on the subject:
The Meaning of Corporate Social Responsibility (CSR)
ICL's Commitment to Diversity, Inclusion, and Belonging
ICL Included in Bloomberg's 2023 Gender-Equality Index
ICL and the Future of Community Social Innovation
ICL has pioneered a new approach to investing in the community that is based on devolved leadership and synergistic collaboration between its own volunteers, local authorities, and the communities themselves. This innovative approach to sustainable social responsibility is already producing highly positive impacts and is helping to transform the quality of life and future prospects for some of Israel's most disadvantaged communities.
ICL is committed to contributing to local communities wherever it operates, and to encouraging its employees to volunteer their time, energy, and expertise to social initiatives. Not only do participants get the satisfaction of doing good, but it's our experience that they also gain transferable skills and experience a new level of professional development in the process: everybody wins.
If you have an idea for a new community project or social initiative in a locality that is close to an ICL site, we'd love to hear from you.