We at ICL proudly uphold a tradition of cultivating ties with the local communities we operate within. Whether partnering with local biodiversity-oriented businesses or doing volunteer work, ICL seeks to impact lives with practical on-the-ground changes in the present and creating tangible prospects for a better future. We empower our employees by providing them with ways to develop and maintain personal and direct contact with the communities where they work. Many ICL employees become so attached and dedicated to their volunteer projects that they continue their contributions even after retirement. The joy and excitement of impacting real lives translates into valuable memories that our employees cherish and gladly share with the world. We love drawing on their unique individual experiences for inspiration. Salome Gerhardus was happy to share a recent and heartfelt story of her time in the field.
It all started on July 16 in Mannheim, Germany. The area where Johanniter Mannheim operates is in Erftstadt, located in the state of North Rhine-Westphalia. The state, which includes iconic port cities such as Cologne and Dusseldorf, had been devastated by flooding. It saw majestic rivers like the Rhine and Erft swell catastrophically after a severe storm and a record-breaking rainfall not seen in a century. Once popular cruising areas known for fun and relaxation transformed into menacing tides, devouring everything in their path. The disastrous flooding swept through vast areas, including Germany, Belgium, the Netherlands, Luxembourg, and Switzerland. Salome and her colleagues were on duty to provide support in the disaster area.
Even before the official report was released, it was clear to Salome that she wanted to help. To watch the plight of people stranded in the disaster area unfold on the news would have been unbearable. It was clear something needed to be done, and Salome was more than willing to help in any way possible. The consequences of the flood were horrifying and shocking. Many people suddenly found themselves homeless and helpless. Houses, roads and other infrastructure collapsed. Streets became impassible, and entire neighborhoods were covered in debris brought by the flood. Houses were engulfed with brown water, which owners and firefighters had to wade through. Giant sinkholes opened up in some areas, transforming the once-familiar landscape into treacherous, alien terrain. For the local residents, the destruction was indescribable. The presence of first-responders, willing to put their life on the line to offer assistance, provided a much-needed glimmer of hope in a time of darkness.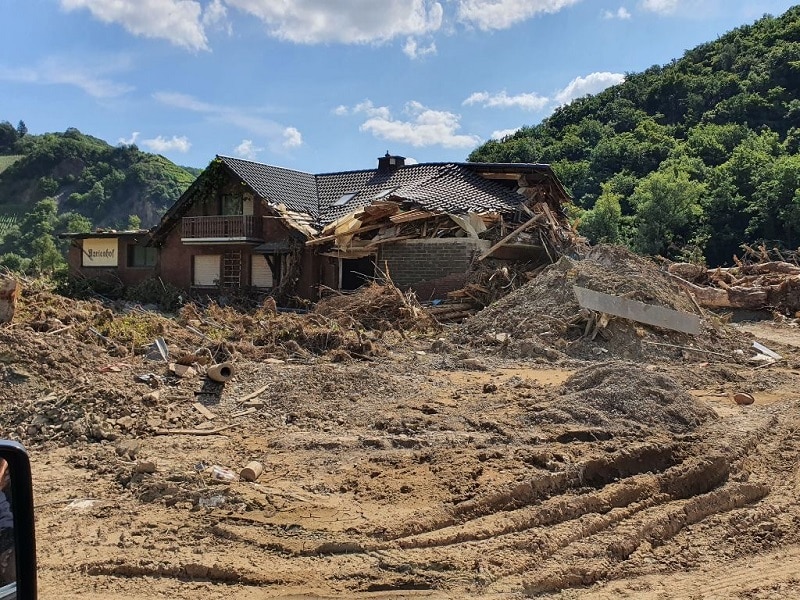 Salome oversaw a variety of critical logistical tasks that provided support to helpers and those affected by the disaster. "We brought water, delivered food, and evacuated a retirement home that was in danger of collapse. Displaced people were evacuated to a local school, which acted as a temporary relief headquarters where evacuees could be accommodated and cared for while allowing responders to operate additional life-saving tasks. We ate there, gave donations to those affected, and supported the police, the fire brigade, and other emergency units. We were there for those affected, talked to them, and provided medical care. In addition to several politicians, the Cardinal of Cologne was also present and expressed appreciation and admiration for our work. Above all, I will remember the gratitude of those affected by the flood. Their warm expressions of thanks and gratitude stay with me to this day. Such emotional encounters confirm the value of our efforts. At such moments you really understand why you are doing this."
You may be interested in:
"As the team leader, I try to get everyone involved to make an impact" – The Volunteer Team Spirit of Kim Johnson
"Volunteering is a Part of Me" – the Story of Aviva Bargal
A Dedicated Employee and Volunteer – The Inspiring Story of Nir Finkelstein
Salome took home many complex but impactful impressions of the tragedy of human loss and the togetherness of human solidarity. "I had the opportunity to donate my own small part in restoring the lives of many people going through a terrible ordeal. The experience has affected me greatly. Some of the things I will never forget. But I don't regret a single second of my time there. And I would go back any time. ICL have given me their approval to do this if we were requested again." Salome Gerhardus, lead Payroll, has been active with "Johanniter" in Mannheim since 1997 in the areas of emergency services and civil protection. She says every minute of it has been worth it.